Manchester United
– A detailed article on why they could dominate for years to come...
ManUtd was the 1st team
from Britain to win the UCL

Manchester United – this is a team that has been dominant through the years. The first British club to participate in the European Cup, the 1st English club to win it. The team with the maximum number of English League and FA Cup titles. This is a team that has caught people's hearts and imagination with their brilliant attacking football and a desire to never give up.
SAF's class of '92
Yes, this team has seen its bad days, but, in recent years, especially since the 1990s, Manchester United have been by far the most successful team in England. They swept aside all competitors like Liverpool, Arsenal, Chelsea to win 12 league titles under Sir Alex Ferguson.
Sir Alex's vision to bring through youngsters from the club's academy has enabled him to develop many sides, all of which stake their claim to be called as one of the greatest in the club's history. From the 'Class of 92' which included Scholes, Beckham, Giggs, Gary Neville, Phil Neville, Nicky Butt ect. to the current 2012/13 side, with Rooney, RvP, Welbeck, Chicha, Cleverley (Scholesy and Giggsy are still here!). All of these sides have one thing in common. Players from the academy.
The Trio Trinity
Charlton, Law, Best
You can't forgot the Busby Babes, and the Trio Trinity in 50s-60s. They've created the history for this massive football club. Don't you remember the Munich Disaster? It has killed 23 promising youngsters at that time, which was in their golden time. 10 years after the disaster, United got their first European Champions trophy with their brand new Trio Trinity - Charlton, Law, Best. The legend that every United fans will never forget, whenever the time is.
This makes me optimistic to believe, that even in the future, Manchester United shall continue to dominate, and the Red Flag shall keep Flying High. This is because, United, as always, currently have a very promising batch of youngsters in the academy. These youngsters are showing tremendous potential and look like they have the quality required to help our club win titles in the future.
I have tried to write why I think we're going to dominate for years to come, and written in brief about some youngsters who I think are showing great promise. This list obviously includes some of our young 1st teamers like Jones, De Gea and Welbeck but also some of those who're still only involved in the reserves/youth games like Petrucci, Tunnicliffe and the Keane brothers.
So, here are the names who could be in our 1st team squad in the future, say 5 years from now, ones which could be capable of helping us challenge for titles:-
David De Gea
(Current age: 21)
De Gea in action
The Spaniard has been criticized by many critics and fans alike. While he is prone to an occasional error or two, its easy to forget that he's only 21 at the moment. He has a lot of potential – potential to be the best in the world in a few years. Yes, he does commit some errors but he also pulls off some spectacular saves where other keepers wouldn't stand a chance. For e.g. his two saves after HT against Spurs in the 1-1 draw. Those were world class saves. He'll definitely be a world class keeper in the coming years, and 5 years from now, a massive asset to the team.
Other exciting options that we have at this position include Ben Amos (currently 21) and Sam Johnstone (19). Both are showing promise but David clearly looks like our number 1 in the long term.

DEFENDERS
Da Silvas are hungry for more
success
As far as the Right Back and Left Back positions are concerned, I've been dead certain for quite some time now, that these slots will belong to Rafael and Fabio (both 22). They've been at the club for about 5 years now. They've developed massively. Rafael especially has proven himself very well this season. He's excellently replaced Gary Neville and has successfully taken over the number 2 jersey. His forward dribbles and crosses are a great asset to the team.
Fabio's development hasn't quite gone the way we would've desired. He was finally looking at place in the team in the 2009-10 season when he started ahead of Rafael against Barca in the UEFA Champions League final, but things haven't gone as well since, and he's been sent out on loan to gain some experience. Hopefully he'll return stronger and fulfil the potential that I believe he has. He, and NOT Buttner should be the long-term replacement for Evra IMO. I'm still unconvinced on Buttner's defensive side of the game.
Also, Marnick Vermijl (21) is looking like an interesting youngster at RB. The Belgian has consistently performed well in the youth teams for United and is excellent with his intelligent forward runs.
Alex Buttner always confident
At LB, other options include Alexander Buttner (23) and another academy youngster Tyler Blackett (19). Buttner has garnered some attention due to his transfer last summer. But Blackett is another very talented young player we have. He's athletic and has a build ideal for a CB. His athleticism allows him to have devastating effects with his forward runs from LB. Also, this lads pretty versatile (can play LM and CB when needed) and is looking good with Free Kicks too.
CENTRE BACKS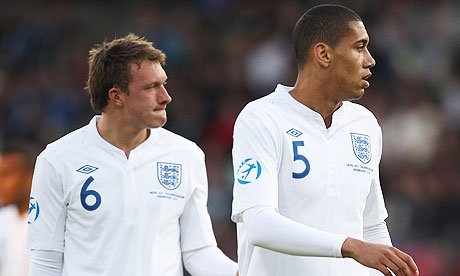 Phil Jones and Smalling
playing for England U21
The Side Back positions look pretty well covered for the future. But at the same time, at CB also, we have options aplenty. Our 1st choice CB pairing 5 years from now, could very well be Phil Jones (21) and Chris Smalling (23). Both have enormous potential and could be not only United's but also England's 1st choice partnership for years to come. Both have played together for England U19 and U21, even before United signed him.
Both are pretty versatile, with both having played RB on a number of occasions for us. Phil Jones has also played well as a Defensive Midfielder on the occasions he's played there. Although both have played at RB, I don't think Smalling is good enough at RB. His physique (particularly his height) make his ideal position as a CB. Also, as a RB, he isn't positionally adept enough. Jones however has performed admirably at RB. His forward runs were good. BUT again, I believe that for him too, his best position is at CB. The RB slot, should remain Rafael's.

Also, one quality about Jones that stands out, is his leadership. He has been touted as the future United and England captain on numerous occasions. And these observations are not wrong.
Jonny Evans and Phil Jones
As well as North Irish defender, Jonny Evans (25), who's improving day by day. Don't we remember when we wanted him to leave United because he was an inexperienced player about 2-3 years ago? Sir Alex knows what he's doing, and that's why he didn't want to sell him at that time. Evans has paid what the fans are wanting from him. Alongside two British centre backs, he'll defend us when the duo of Vidic and Ferdinand's time has gone.
Apart from these two, Scott Wootton (21) and Michael Keane (20) are also lads with great promise. Both have already made their debuts for the ManUtd first team. Both are currently out on loan to gain experience. Wootton is at
Peterborough United while Michael Keane is at Leicester City for the rest of the season. Both are solid young defenders who will be great for the team in the future.
Tom Cleverley
So, our defence and goalkeeping departments are looking pretty good. As far as our midfield are concerned, we have an excellent batch of CMs/CAMs coming through with Davide Petrucci (21), Jesse Lingard (20), Ryan Tunnicliffe (20), Tom Cleverley (23), Larnell Cole (19) and Nick Powell (18) all showing great potential. I think its safe to say that each and every one of these youngsters has great talent and will be vying for the CM/CAM spots in the team for years to come!
Cleverley needs no introduction. He has shown his great passing, movement and finishing abilities this season on a number of occasions. His partnership with Carrick has been a joy to watch and also been great for the team in terms of results. Powell too introduced himself to the United fans with that cracker of a goal against Wigan at Old Trafford. In his UEFA Champions League appearances he's looked brilliant and composed on the ball. He's currently only 18, so I'm sure there's a lot to come from him!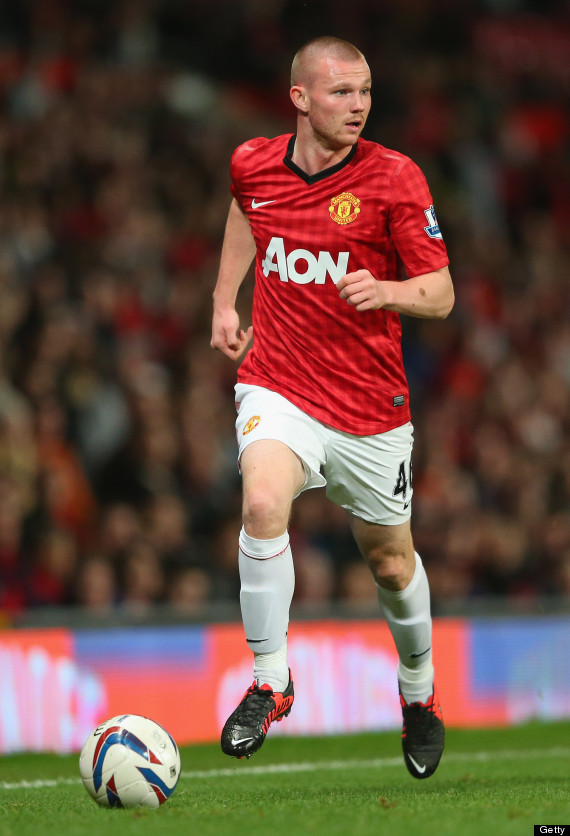 Ryan Tunnicliffe
Ryan Tunnicliffe is another promising youngster in the squad. For those who don't know, he's a central midfielder not afraid of going into a challenge.
A powerful midfield all-rounder, Ryan likes to tackle, pass and score goals.
He reads the game well and is also capable of filling in at RB when needed. But I think his best position is as a Defensive Midfielder. He puts in good tackles and pass the ball around the pitch.
Davide Petrucci was brought to United from Roma for his obvious talents as a playmaker. He's got an
eye for spectacular goals and impressive passing. For those who need an introduction to his abilities, he's just put in a brilliant performance for Peterborough United against Leicester City this weekend. He showcased his neat passing and capped it off with a cracking goal from 20 yards. He's developed his game in the last two seasons and become better at handling the physical side of the game. He's putting in some decent tackles and is developing into an useful box-to-box midfielder.
Jesse Lingarsd
Another talented youngster we have, is Jesse Lingard. He can play on either wings but his best position is just behind the striker. He's got impressive finishing skills and a hard worker on the field, tracking back to help his defence. He definitely has a bright future in the game and is highly rated by SAF, judging by the fact that he
was handed a first-team shirt number in the 2011-12 season for both the PL and the UEFA CL.
Another youngster progressing through the ranks at Old Trafford is Manchester born Larnell Cole. He's capable of playing as a winger as well as an attacking midfielder on the right side of the pitch. He's got a well cultured right foot and a more than decent shot on him. He's a dedicated learner showing this with his willingness to improve the defensive side of his game by filling in at RB for the reserves. For those who haven't should check out his goal against Tigres in the Dallas Cup. His volley was sublime as were Will
Keane's and Lingard's passing abilities!
Apart from these youngsters, we musn't forget that Shinji Kagawa is only 23 too. He although needs no introduction with the abilities he's shown at United and more impressively at Dortmund. Our midfield, looks secure with the above mentioned stars coming through. Apart from them, there are others like Luke Giverin (20) and Adnan Januzaj (18) showing great potential
Nick Powell
Giverin is a left footed player, primarily a LM also capable of operating at LB. He's dangerous from set pieces and has impressive crossing ability. Januzaj is more of a dribbler. He operates on the right
and has an impressive array of skills to get past opposition defenders.
Nick Powell
(18) is also no need introduction. His performance when he was wearing Crewe shirt was simply incredible. With his sharp vision to look for uncovered teammates, his deadly long range shoot, plus his dribbling ability is a plus for him. He has determination to win every game, and isn't selfish to go for it. Some-say he's the next Paul Scholes, who probably is playing his last professional season today, comparing with his vision and mentality skills he has.
The attacking department also has its share of promising youngsters. These include Will Keane (20), John Cofie (20), Frederico Macheda (21) and Danny Welbeck (22).
Danny Welbeck
Welbeck has been in the 1st team for quite some time now and doen't need much introduction. He's brilliant with his dribbling and hold up play. His work rate is fantastic as well. He's a bit lacking with his finishing, but he's sure to develop and be an important player for us in the future.
No one would forgot this goal
by Macheda
Macheda – well, most of us remember him for his goal against Aston Villa which won us the league. What a sublime piece of skill that was. But since then, Kiko hasn't really been able to make his mark on the 1st team and some of the supporters want him to leave. But I think that he can come good for us. He has been quite unlucky with his loans to Sampdoria and QPR. Injuries and sudden managerial changes haven't gone in his favour. Well, he's out on loan again and lets hope this time he's able to show his true abilities. I believe he can.
Will Keane is also a player held in high regard by SAF. He would've been more involved in the 1st team had it not been for his unfortunate injury thats kept him out since May '12. He's got great vision and has the natural ability to play in the final pass and also the ability to finish off attacking moves. He definitely has a bright future in the game and he's somebody to look at once he returns.
Well, our future certainly looks bright, doesn't it? The 1st team 5 years from now, certainly seems as though will include a number of our academy graduates. With the promising youngsters we have, we are certainly going to dominate for a number of years to come. And this, when i haven't even mentioned some other talented youngsters like Reece Brown, Gyliano van velzen and Michael Fornasier. Well, we have plenty to look forward to in the near future.
_______________________________________________________________________________
An Article by DjK_MUFC with some editings
we are allowed to
reappear this post
DO NOT copy, use, or paste everything included on this post without OFFICIAL PERMISSION